GAINESVILLE ENT & ALLERGY ASSOCIATES
ABOUT US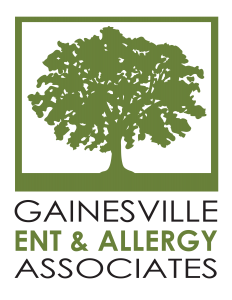 At Gainesville ENT & Allergy Associates, we pride ourselves on our professionalism. From the moment we first answer the phone, we will strive to make your experience with our office outstanding in every way. Our facility is designed to make you feel at ease and reflects our philosophy that patient care comes first. When you trust your health to our providers and staff, you gain the unique combination of a broad scope of specialized services partnered with the personal attention of our providers.
In addition to medical care of ear, nose and throat disorders, we also provide a broad range of surgical services, so we are with you throughout the entire wellness process.
We also provide comprehensive allergy testing and care, including sublingual immunotherapy (SLIT).
With our two audiologists we are able to offer the highest level of hearing care for patients of all ages with a full range of hearing assistive devices, including hearing aids.
To schedule an appointment, please call us today at (352) 331-0090. We look forward to caring for you and your family.